We are pleased to announce and proud to acknowledge that our Founding Partner, Michael Coombes, and Southshore Finance have been recognised in the 2020 Fast Hall of Fame Awards as leaders in the finance industry.
FAST continues to be one of Australia's leading finance aggregators, with over 1,300 partnered brokers. The awards are held annually, recognising the leaders in the industry, and the values they represent. The following detail was included in Michael's Inductee certificate.
"We honour and celebrate Michael's passion, leadership, integrity, and his commendable commitment. Michael Coombes has 40 years' finance industry experience including 33 years as a finance broker, having started his career in the ANZ Bank in 1980. In 1994 he established Southshore Finance, a licensed finance broking firm accredited with major lenders including banks, mortgage companies, and private lenders.
Southshore Finance provides assistance to individuals, families, companies, and businesses of all sizes, specialising in the provision of business, mortgage finance, and equipment finance. Michael and his team pride themselves in being able to deliver the best solution for their clients' finance requirements, in a professional and ethical manner. Since becoming a finance broker, he has built and fostered successful relationships with many colleagues, referral partners, and banking executives and is often engaged by these parties when they are looking to implement new business strategies.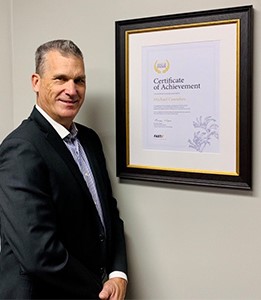 Most notably, Michael was a significant voice for the industry during the royal commission and made sure the broking industry was better understood by politicians and the public. Michael continues to be actively engaged in protecting the best interests of the industry, its members, and all who benefit from the advice provided by himself and his team. His commitment to FAST, FAST Brokers, and the values they represent have been commendable.
While the accolades and awards have piled up for Michael over the years, those that have worked alongside him know his greatest strength, which is his ability to offer advice that comes with great integrity and knowledge. Michael's impact on the finance industry is immeasurable and will remain long into the future."